Yes, it's a three-in-one! This is due to, again, similarities, but also because hair especially is too short for it's own part. So, let's get to it with common hair styles!
The Blonde Bombshell:
platinum locks curled to be near perfect! Ideal for the high-maintenance kinderwhore. Think Marilyn Monroe, Britney Spears, or Barbie. However, the grunge aesthetics make this a rare find.
Christina Aguilera rocks the Blonde Bombshell.
The Blonde Bomb:
Similar to the above, but messy and with the roots showing. Works best with hair naturally quite dark. The idea here is to bleach it, then ignore it completely aside from the occasional wash.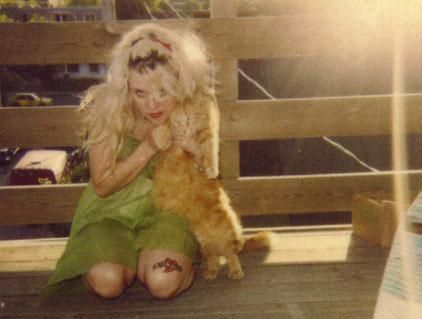 Kat Bjelland
Au Natural:
Put down the bleach and rock your natural colour!
Tickle Me Pink!:
Or red, or green, or blue, or purple! The trick here is to make sure it's faded and the roots come through.
The Black Bob:
Perfect for more gothic or flapper-like kinderwhores! I have this style, and, for someone with naturally straight hair, it's very low maintenance!
Christina Ricci with a bang-less bob.
Bunches
or
pigtails
are a very popular and childish style that's friendly to most hair, be it coloured, messy, or curly! These can be high or low, symmetrical or to one side!
Babydoll from Sucker Punch. She's pretty much a pristine-perfect styled-up kinderwhore, but we love her anyway.
Plaits
are also a common-ish feature due to it's childish appearance, but are not for the low maintenance or lazy!
Mary-Kate Olsen, with a pretty (and scruffy) fishtail plait.
Next comes the hats and hair accessories, which come in a few varieties:
Hair/head/Alice bands:
These come in lots of shapes, colours, patterns, and styles, so wild! Just keep in mind that it should look childish or cute.
Bows/Ribbons:
These often look childish by default, so you really have an endless choice of styles to choose from here!
Lady GaGa. A really creative/bored kinderwhore could go one step further and make her hair the bow!
Plastic Barrettes:
A very cutesy style of clip. They can be hard to find online or in charity shops, so attack those kids stores!
A barrette for every day! Source
Crowns
or
Tiaras
are great for daring kinderwhores, and plastic ones are cheap and easy to find!
Courtney Love
A
Sunhat
will be perfect for hot weather, and could make even the most destroyed outfit look posh!
Babes in Toyland
Other options include army helmets, regular hair clips, hair flowers, bobby pins, slides, and even berets!
Next time, we'll look into the make-up of kinderwhore!